Far-left protesters clashed with police at a "Let Women Speak" event in New York City on Monday, leading to nine arrests, Fox News Digital reported. Transgender activists flocked to the pro-women event in Manhattan to demonstrate against a movement they claim fuels hatred toward the trans community.
Monday's rally in New York was the last of 10 stops in the four-week "Let Women Speak" U.S. tour hosted by Kellie-Jay Keen, a British women's rights advocate. The event gathered women across the nation to give them a chance to speak about the danger and impact of leftist gender ideology.
In a video, Keen stated that she could not attend the event because the New York Police Department refused to escort her to the rally.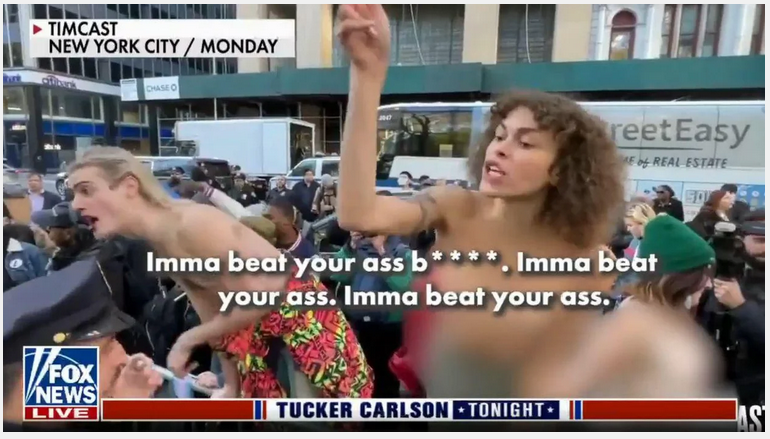 "My event's going on without me," she said. "I think this is indicative of the United States in 2022 and how they feel about women speaking."
Leftist protesters yelled over the speakers and called the women "TERFs," which stands for trans-exclusionary radical feminists.
At one point, demonstrators chanted, "TERFS go home!"
In footage from the event, the NYPD can be heard instructing the transgender activists to disperse to prevent blocking traffic. However, most activists appeared to ignore the order, and some even confronted police.
One leftist activist is seen in the footage ringing a bell next to the ear of a uniformed police officer.
Another protester is captured on video repeatedly yelling at pro-women attendees, "Imma beat your ass."
"These hands do not discriminate. I will f*** you up," the leftist protester continued.
Atlas Lee-Reid, a demonstrator who showed up to protest against the rally, told CBS News, "We were counterprotesting a group of TERFs who are trying to persuade people that trans people are sexual abusers and that trans kids are being forcibly mutilated."
The outlet reported that flyers were posted around the area to encourage people to show up in protest of the "Let Women Speak" rally with noisemakers.
Jeanna Hoch, a pro-women activist and attendee at Monday's Manhattan event, appeared on "Tucker Carlson Tonight" the following day and stated, "It was very high-energy. It was not good. I don't think I expected it to be that bad. Obviously, we were threatened. Women were assaulted. Police were assaulted. I can't believe actually how much abuse they put up with."
"It's upsetting to see the spin in the newspaper that it was either an equal fight or that the police were being brutal against people, because that was not the case at all," Hoch added.
According to authorities, nine individuals were arrested on Monday and would most likely be given summonses and released, Fox News Digital reported.
At several stops in the "Let Women Speak" U.S. tour, including last week in Washington, D.C., protesters used megaphones and sirens to drown out the event's speakers.
Last month, in Tacoma, Washington, the scheduled pro-women event was shut down by transgender activists who allegedly harassed, assaulted, and injured attendees.