Image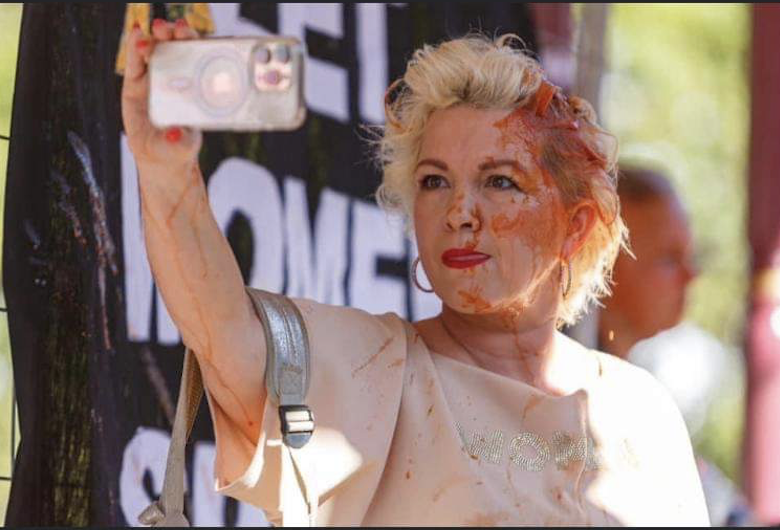 The Green Alliance for Sex-Based Rights expresses its outrage for the treatment of women who were attending legal and peaceful women's rights Let Women Speak rallies in Australia and New Zealand, particularly in Melbourne on March 18th, in Hobart on March 21st, and in Auckland on March 25th.
Women were ASSAULTED at the rallies.1 The organizer of the rallies, Kellie-Jay Keen-Minshull, had tomato soup dowsed on her. An elderly woman was punched in the face multiple times, fracturing her skull. None of this should have been a surprise, as self-declared transactivists in numerous posts to various social media platforms had made clear their intention to physically harm women.2
We denounce the unprovoked intimidation, threats, harassment, and assaults of women at those rallies.3 We also denounce the defamation of Keen by elected officials4 and news organizations, and the distortion of her message with the accusation that she was tainted in any way by the uninvited and unwanted presence of Nazi sympathizers who gate-crashed the rally5. We denounce the unimpeded victimization of women at the rallies, a continuation of the routine violence women face around the globe throughout their lives. And we denounce the advocacy of violence against women who stand up for their rights.6
We denounce the targeting of Moira Deeming, a Member of the Victorian Parliament by MP Pesutto, the Leader of the Liberal Caucus, who sought to expel and succeeded in suspending her from the caucus for her participation in the Melbourne rally7. Her leadership in the face of intimidation on issues of concern to half of the Australian population is to be applauded, not cancelled.
We grieve the lost opportunity to hear the wisdom of women who were intimidated by mob violence, who lacked the equal protection of the law to engage in the democratic process.
We demand that organizations and individuals who PROFESS to stand for women's rights cease their unsubstantiated smear campaign8 targeting Kelly-Jay Keen. Our movement is made stronger by reflection and principled criticism. But there is nothing principled about a petty descent into guilt-by-association smears which paint a target on the backs of those working towards goals we support. It is important that we stand with Ms. Keen-Minshull, and in solidarity with the Let Women Speak rallies which have provided a platform for so many women who would otherwise be silenced by the efforts of the lobby for gender ideology to erase women from the public sphere.
We note with concern the rising incidents of violence, including Auckland, by men's rights activists in the wake of the troubling rhetoric used to call for a Trans Day of Vengeance9 mobilization on April 1st. Since Auckland, we have seen a thwarted mass shooting10 by a trans-identified man in Colorado Springs Colorado (reported to law enforcement by family) and a violent mob11 batter and imprison collegiate swimmer and women's sports advocate Riley Gaines at San Francisco State University. Transactivists have disrupted and "canceled" numerous speaking engagements at universities and libraries around the nation, showing a brazen disregard for free speech and civil dialogue, and have committed acts of violence against many other women who have gathered to protest or speak out against policies that infringe upon their rights as women.
Regardless of differences in philosophy and style, we must stand together against attacks on women who assert women's rights and vociferously against violence of any kind aimed at women. Surely we can join together in solidarity to condemn individuals who engage in intimidation and violence, and particularly GOVERNMENTS which turn a blind eye to such abuse, thereby enabling the violence against women to continue. We demand that women and men who claim to support gender-critical views form a UNIFIED defense of the women at those rallies, including Kellie-Jay Keen-Minshull, and join us12 in denouncing threats of violence and violence in any form.13