By Aleks Phillips On 3/30/23 at 7:17 AM EDT

The organizers of a "Trans Day of Vengeance" rally in Washington D.C. at the weekend have vowed to go ahead with the event following the school shooting in Nashville, Tennessee, stating: "We choose to fight for change."

The Trans Radical Activist Network (TRAN), a collection of transgender activist groups, rejected "any connection" between their event and the mass shooting, which police have said was perpetrated by Audrey Elizabeth Hale, who was transgender. The rally, on Saturday, is set to begin outside the U.S. [52]Supreme Court and will protest the various bills in numerous states limiting gender-affirming health care.

On Monday, Nashville police said Hale, 28, had broken into the Covenant School, a private Christian institution they had previously attended, with three guns including two assault weapons, and went on to fatally shoot three nine-year-old children and three members of staff.

Officers attended after receiving a call at about 10:13 a.m. local time (11:13 a.m. ET) and encountered the assailant on the second floor of the school, where they fatally shot Hale.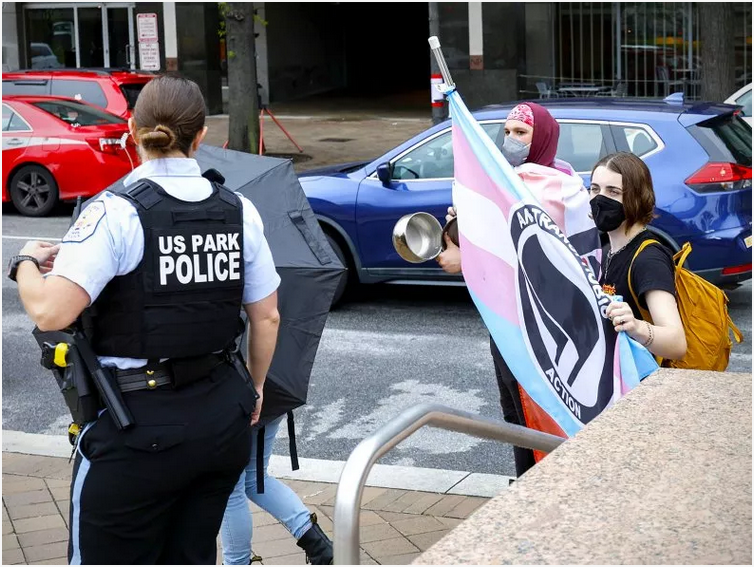 CAPTION: Transgender Rights Activists in Washington D.C. Transgender rights activists protest at Freedom Plaza on June 23, 2022 in Washington, D.C.  A separate collection of transgender rights groups plans to hold a rally in the capital on Saturday. Getty Images/Anna Moneymaker

Police said that they had since recovered documentation at Hale's house that showed the attack "was calculated and planned." Nashville Chief of Police John Drake told reporters that officers were investigating whether Hale's gender identity was related to the crime, but couldn't comment on a motive.

Conservative commentators, however, pointed to Hale's gender identity and that of three other mass shooters who have identified as transgender or non-binary in the past five years [55]as a sign that the transgender movement "is radicalizing activists into terrorists."  Others have noted that, as a proportion of mass shooters, those identifying as transgender appear to be statistically insignificant.

Those behind the Trans Day of Vengeance were specifically mentioned in recent stories by The Gateway Pundit and the Daily Mail, which claimed that one chapter in Virginia had raised money for firearms and self-defense training. They also noted apparent instances of transgender activists posing with guns on social media.

The group is going ahead with its April 1 rally in the capital—just five days after the deadly attack—arguing on its website that the protest "is about unity, not inciting violence."

In a statement on Wednesday, TRAN and other organizers said they "are horrified by the acts of violence committed at the Covenant School on March 27, 2023. We are outraged by this tragedy—we grieve for Evelyn Dieckhaus, Hallie Scruggs, William Kinney, Cynthia Peak, Katherine Koonce, and Mike Hill, and with their loved ones."

It went on to "reject any connection between that horrific event and ours." The group said the "vengeance" in the name of their rally "means fighting back with vehemence. We are fighting against false narratives, criminalization, and eradication of our existence."

The Trans Day of Vengeance, they wrote, "is about pushing back againstunjust and inhumane systems that are responsible for the loss of life, rights, and joy. They are the enemy—not individuals."
In a Facebook post, TRAN noted that "any threats that come our way have and will be reported."
A selection of screenshots of messages provided to Newsweek, that had been sent to TRAN since the school shooting, show that the group had been called a "terrorist" outfit, that transgender and gay people "should be slaughtered" and that those organizing the group should "off yourself."

Noah Buchanan, one of TRAN's co-founders, told Newsweek that the group had locked its online accounts and that he would have to change his number after it was shared publicly. He stressed that the protest "is not to be violent" but "about sharing our stories and doing a march."

Buchanan described the school shooting in Nashville as "a tragic event"that "should have never taken place."

New Legislation

The rally comes amid [62]a wave of proposed legislation seeking tolimit access to medical treatment for transgender individuals.  Republicans in several states, including Georgia and Oklahoma, are working to pass laws that would limit the medical treatment that children are legally allowed to receive as part of a physical transition.

Proponents argue that they are doing so over concerns that minors are being harmed by gender-affirming procedures, while opponents say they are limiting transgender rights.

Transgender rights and the sorts of care afforded to minors are proving to be deeply polarizing issues. In the U.S., a 2022 survey by the Pew Research Center found that 38 percent of Americans believe society had gone too far in accepting transgender people, while 36 percent said it had not gone far enough.

Update 03/31/23, 3:12 a.m. ET: This article was updated to include further details from TRAN and comment from Noah Buchanan.